What is the Walmart Creator Platform?
Amazon Influencers
Influencer Marketing
Amazon Marketplace


Back then, Walmart declined to comment on its trademark filing – so all we could do was speculate.
But not anymore!
Walmart Finally Launched the Walmart Creator Platform!
On 18th October 2022, Walmart announced its Walmart creator platform called "Walmart Creator." As stated by William White, the Chief Marketing Officer at Walmart US, "We know that our customers are inspired by stories and content they see from their favorite influencers in their social media feeds every day. This next step in our strategy will fuel inspiration for our customers – as it'll help their favorite creators connect with our brand and the brands that they love at Walmart."
What do you need to know about this platform?
First, it doesn't matter if you are a new creator or an influencer with thousands, if not millions, of social media followers – you can join Walmart's Creator Platform. As soon as you do, you'll have access to the tools you need to promote and share thousands of products with your audience and earn money while doing it.
And the best part? You can earn revenue via commissions on sales – with no set cap. This program is still in its beta mode – and has been launched ahead of the holiday season to help creators earn revenue and meet their financial goals.
Upon signing up, Walmart creators get access to thousands of products that they can promote. In addition, they can review their performance, track their earnings, and access just about anything the platform has to offer through their portal. 
Creators, for the products they want to earn commissions on, can share their product links wherever they want to – whether it's their social media channels or specific groups. At the same time, they'll receive product recommendations based on affinities and their interests. And so much more!
The program is still in Beta Mode and will be fully launched in 2023. 
Wondering how the program works?
Let's find out.
How Does the Walmart Creator Program Work?
Thousands of products are available at Walmart. Now, influencers or creators, no matter whether they have thousands of followers on social media or have a limited following, they can sign up for the Walmart Creator Platform.
Right now, the platform is in Beta mode – so once you submit the application, you'll have to wait for instructions from Walmart regarding the next steps – after signing up. But once your application is approved, you'll be able to discover product collections – that you can create content around and promote on social media or your preferred platform.
You can promote your content on Instagram. Or Facebook.
Or you can even do it on your blog.
Have a rich email list? You can roll out newsletters to promote Walmart products and earn commissions. 
There's no cap on how much creators can earn. At the same time, upon joining the Walmart Creator Program, creators will be the first ones to know about brand campaigns and launches. Also, they'll receive invites to private Walmart events. They can also learn from the top creators in their niche by tapping into the power of community. In addition, creators can also share insider tips and tricks to help their fellow creators succeed on the platform. 
Sounds exciting, doesn't it?
Wondering how to do that?
Allow us to share the exact steps creators need to follow to sign up to Walmart Creator Program.
How Does the Walmart Creator Platform Work?
To enroll in Walmart Creator Platform, head over to the Walmart Creator page. Click on "Apply Now" to sign up. Now, you'll be asked to submit the following information:
Once filled, select "Next."
Next is the "About You" section – where creators can select topics that describe their content. 
Love sharing tech advice? Or healthcare tips? They can select up to five topics in the "Categories" section.
If you're a Walmart Associate, select either of the second or third options. If not, select the first one.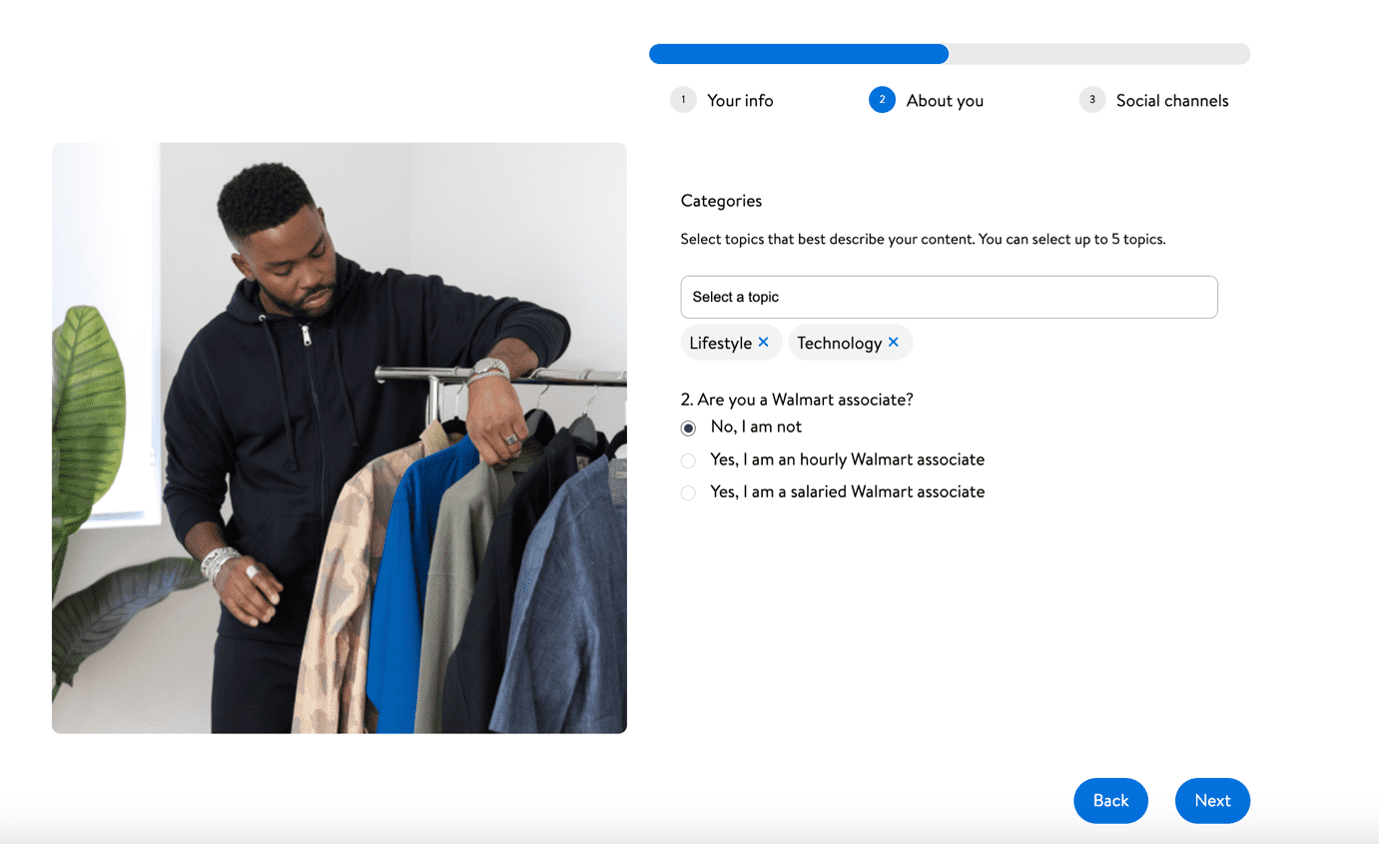 The final step is – connecting your social media handles. You need to connect at least a single social media account to submit your application.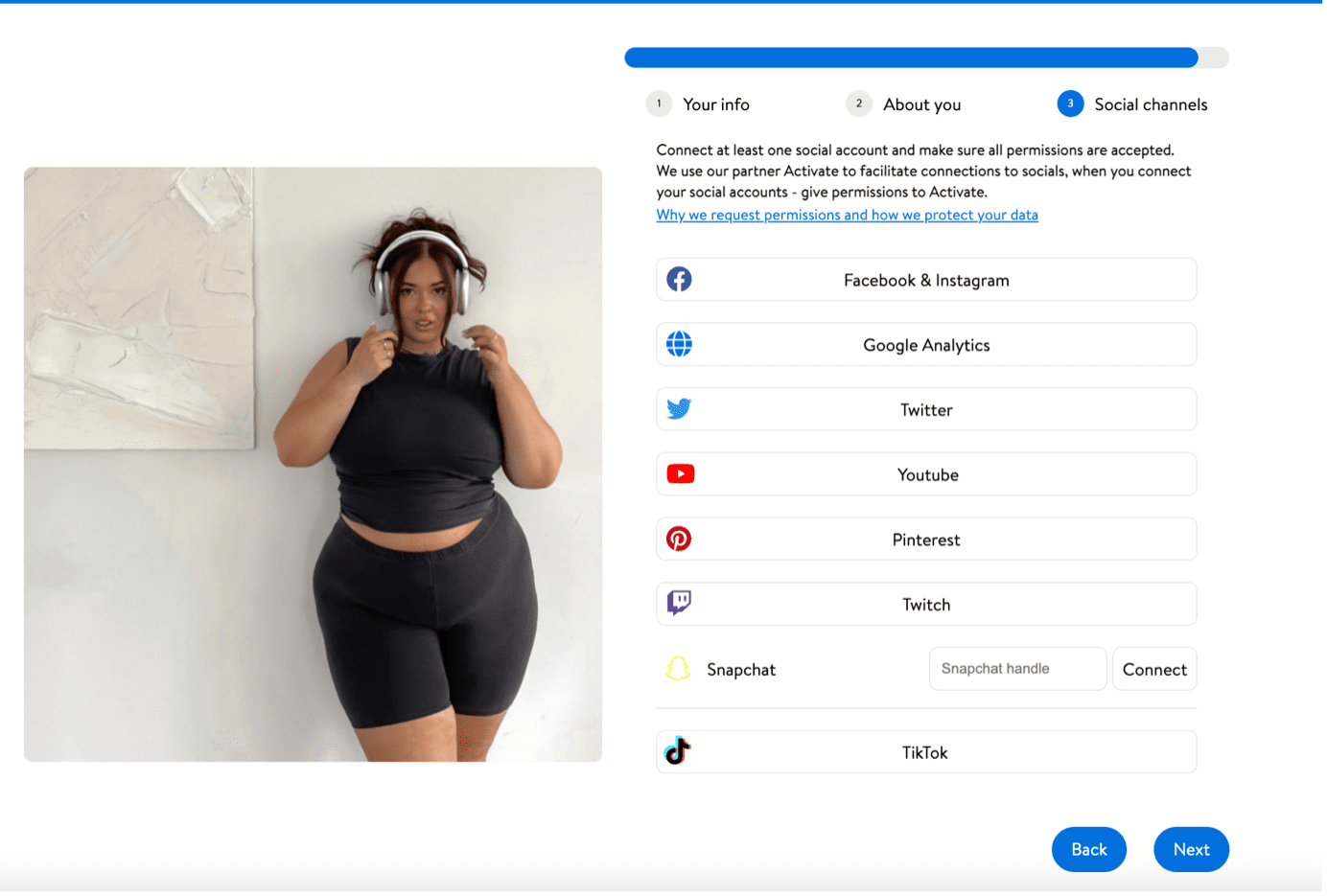 Once submitted, you'll see this: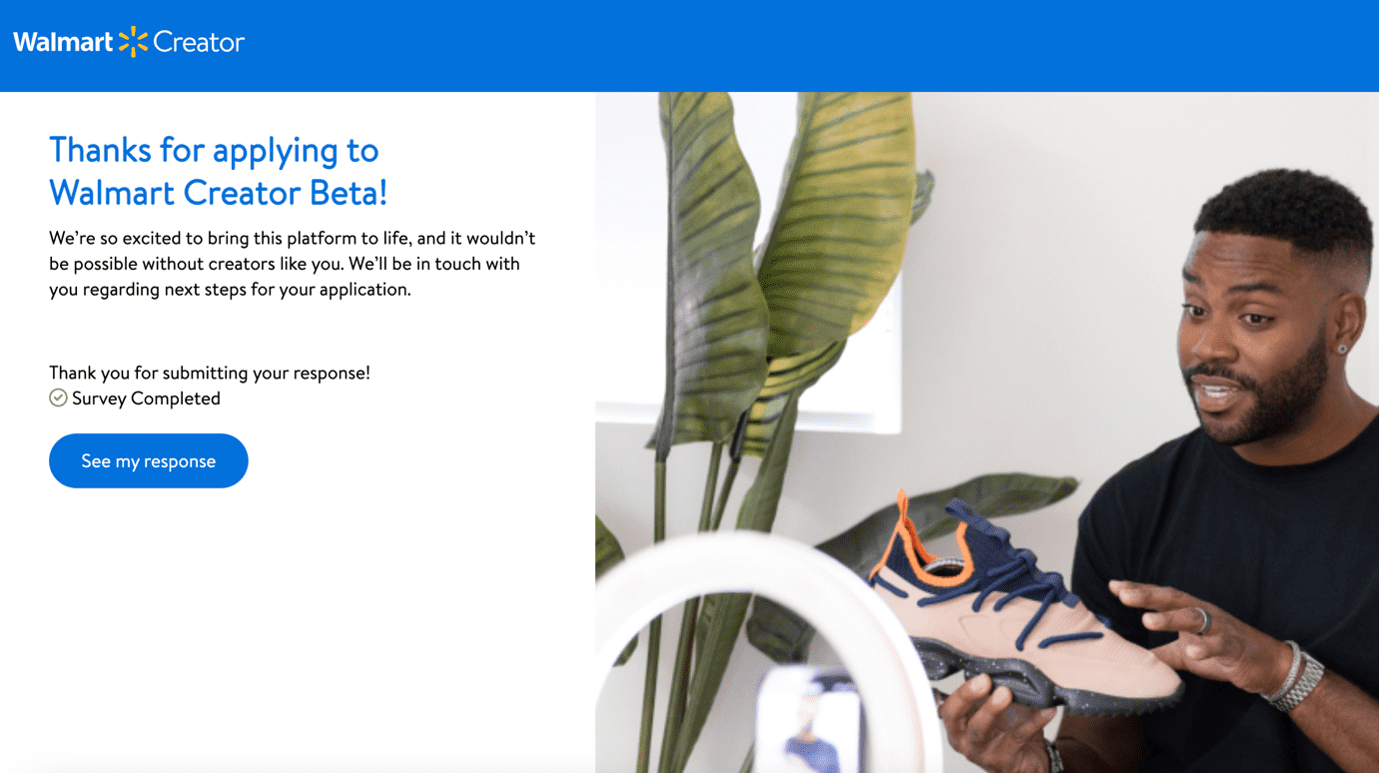 And you'll receive the following email: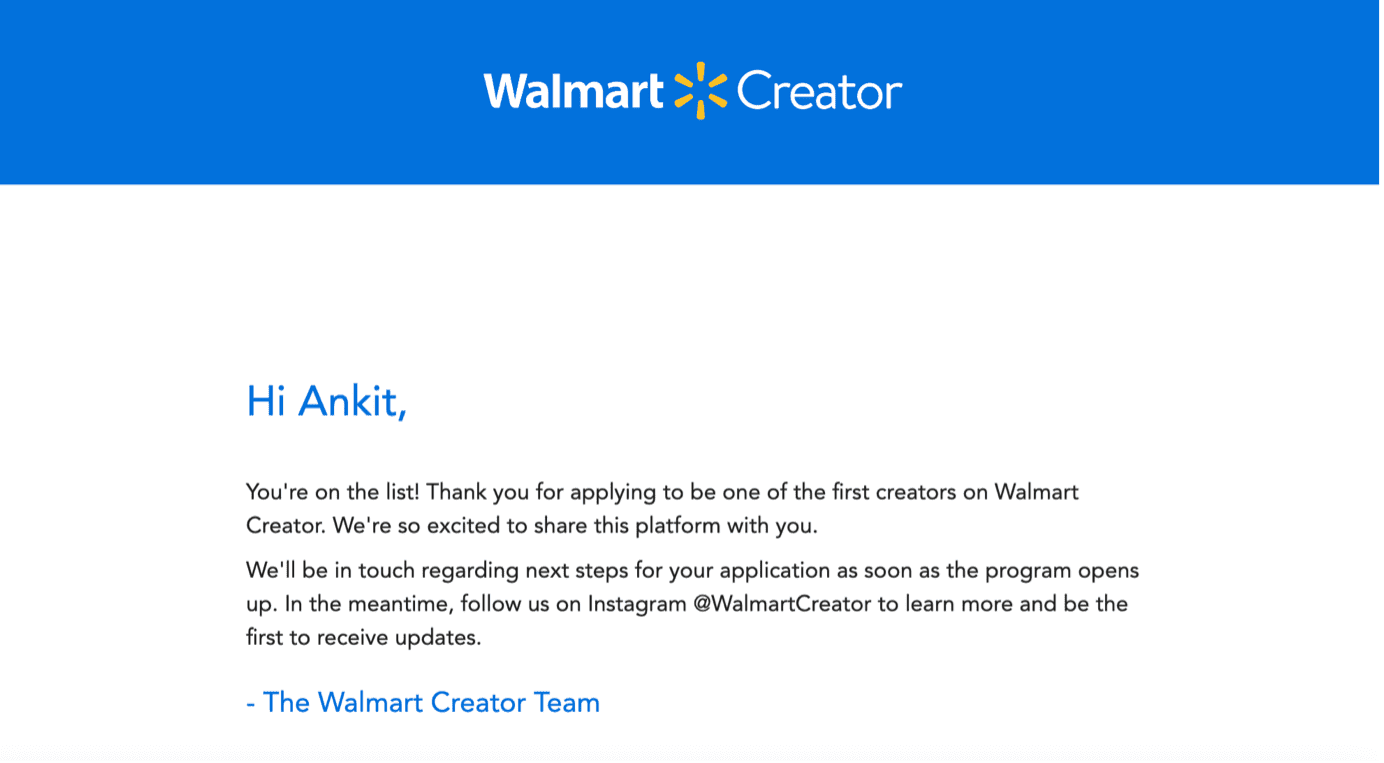 The team at Walmart will review your application. Once reviewed, their team will reach out to you regarding the next steps.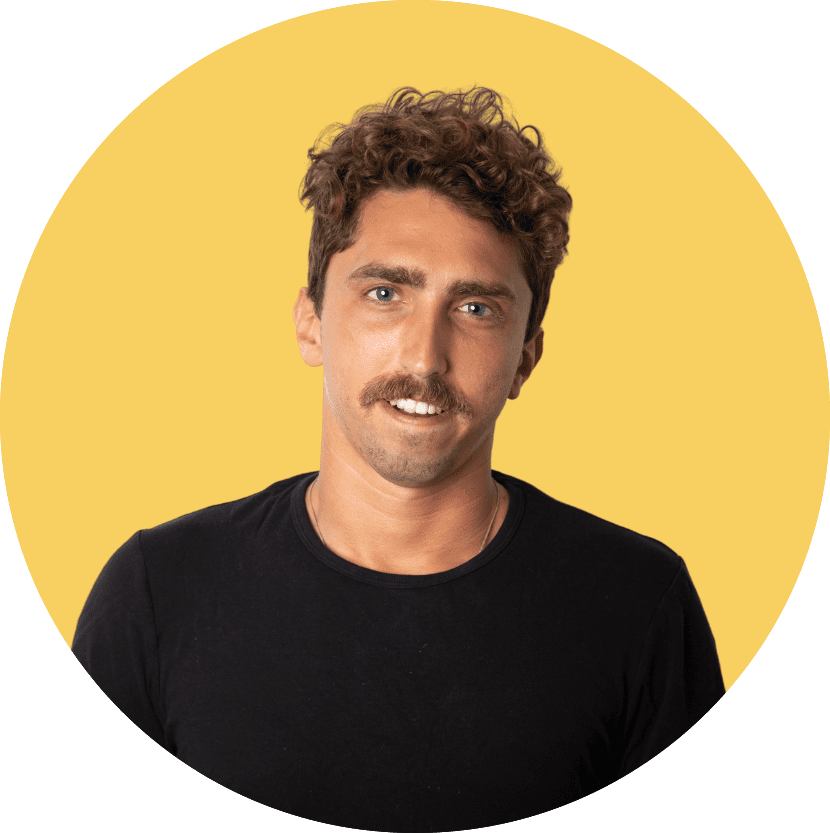 Join Walmart Creator Platform Today!
The next big thing in the world of eCommerce influencer marketing is finally here. 
And it's here to stay.
Have you tried out Walmart's Creator Platform?
If not, submit your application today.
If you have been using it for some time, we'd love to hear about your experience. 
Other Posts You May Like:
Want new articles before they get published?
Subscribe to our Awesome Newsletter.
Want new articles before they get published? Subscribe to our Awesome Newsletter.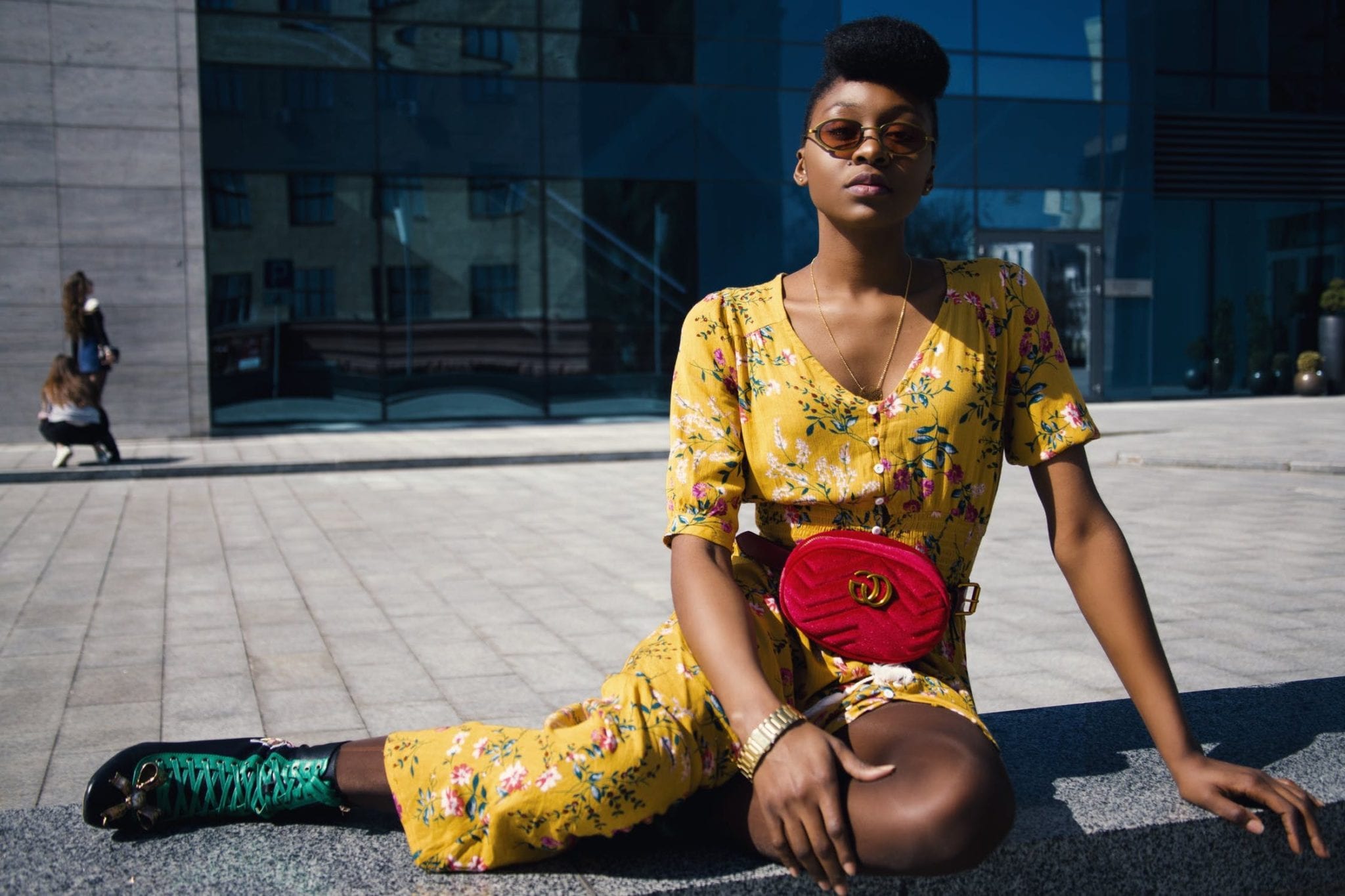 stack up your influence
in exchange for products
our headquarters
111 NE 1st St, Miami, FL 33132
stack up your influence
in exchange for products
our headquarters
111 NE 1st St, 8th Floor 
Miami, FL 33132