Your Go-To Amazon Influencers Guide
Amazon Influencers
Influencer Marketing
Amazon Marketplace
The global influencer marketing industry is on the rise.
With brands all across the globe investing thousands of dollars in influencer marketing each month, the industry has been predicted to cross the $13.8 billion mark by the end of this year. For every dollar businesses spend on influencer marketing, they can expect an average return of $6.5. 
That's insane.
On one hand, some celebrities cash in more than a million dollars per sponsored post. Whereas, on the other, influencers with about a million followers earn anywhere between $100K and $250K per sponsored post. 
And that's not all.
Nano-influencers – influencers with 1,000 or fewer followers – and micro-influencers – influencers with 1,001 – 10,000 followers – cash in $40K-$100K every single year.
Trust me – influencer marketing is one of the most versatile and promising marketing strategies in today's digital era. 
In fact, it's at the heart of the digital revolution. 
Upon incorporating influencer marketing into their existing marketing strategy like working with a PR Agency, brands can not only skyrocket their sales and profit margins but also build a loyal customer base. Whereas influencers can earn top dollars while doing what they love – and let's admit it – almost every single one of us loves hanging out on our favorite social media platforms.

Amazon's Influencer Program has stepped up it's game
Screenshot of Amazon's Influencer Program Page
Whether you're an active Amazon seller with years of experience on the platform who's looking forward to scaling his/her operations and acquiring new customers or are someone who's just planning to kickstart his/her Amazon journey, we've produced this guide to help you understand how you can maximize your reach and fuel your top-of-the-funnel marketing campaigns by tapping into the power of Amazon Influencer program.
This blog post clearly explains what Amazon influencers are and how the Amazon Influencer Program actually works in real life. Also, we'll help you understand how to find the right set of Amazon influencers to ace your marketing efforts.
Let's not wait anymore – we're so excited to share this information with you. Let's dive in straight away.
What Are Amazon Influencers?
These days, almost everyone is aware of who an influencer is. And whether we realize it or not, influencers have become a vital part of our everyday lives in today's fast-paced digital era. 
More than 49% of consumers heavily depend on influencer recommendations. About 40% have reported that they purchased a product or service after seeing it on YouTube, Twitter, or Instagram.
Four in ten millennial subscribers claim that their favorite influencers understand them way better than their friends.
"True influence drives action, and not just awareness."
– Jay Baer
86% of women rely on social media for purchasing advice. And when it comes to influencer marketing, more than half of women claim influencers to have a huge impact on their purchasing decisions.
With Amazon holding its position as the #1 retail eCommerce marketplace and generating billions of dollars in profits each quarter, we've witnessed an ever-increasing number of store owners signing up on the platform and kickstarting their Amazon journey. 
Amazon Marketplace is home to more than 6.3 million unique sellers, out of which about 1.5 million are active. And more than 446,000 sellers are added to the list every year.
Here's a graph showcasing the rise in the number of Amazon sellers between January 2017 and January 2021.

Screenshot Source: Marketplace Pulse.
At this pace, more than 714,000 new sellers will have reportedly signed up on the platform by the end of 2021. 
While those are extremely promising numbers for Amazon and its stakeholders, there's one thing that we can conclude – the competition is incredibly fierce, and it's literally impossible for new sellers to break through the noise, especially if they don't have a well-established online presence.
To help them with their effort, Amazon launched its dedicated influencer program. It's pretty similar to and is an extension of the Amazon Associates (affiliate) program.
Amazon Associates is geared towards people with their own blogs, niche websites, or email lists. What makes Amazon Influencer Program stand out is that it's intended for people (influencers) with large and loyal followings on social media.
With Amazon realizing the unbelievable potential of the growing influencer marketing space, it's a perfect opportunity for influencers to set up their own Amazon storefront, promote products sold by different brands and earn commissions upon every qualifying purchase.
Amazon influencers are influencers with their own Amazon storefronts – where they can post a listing of products they are endorsing. Not every person or influencer who applies on the platform gets in.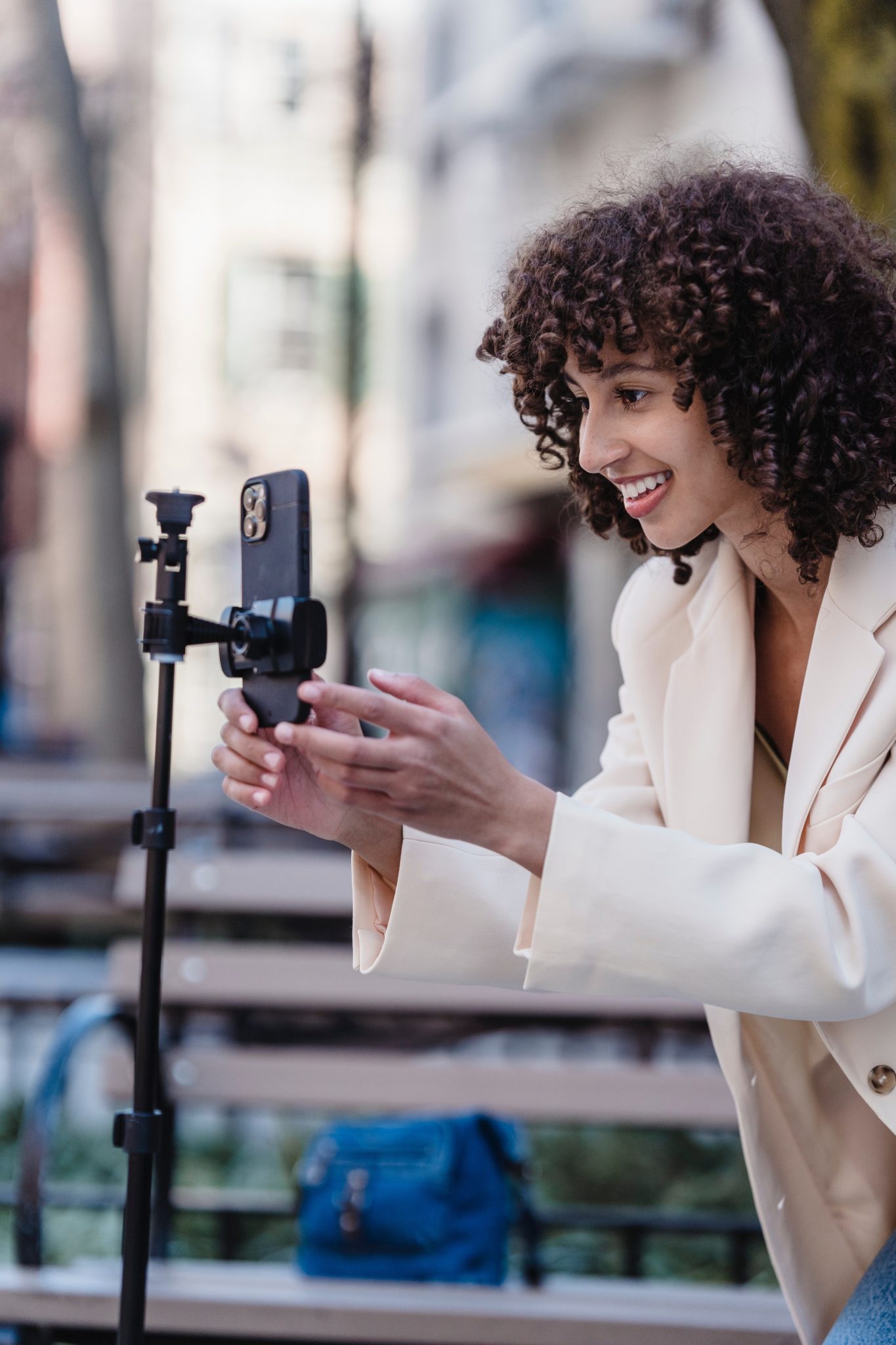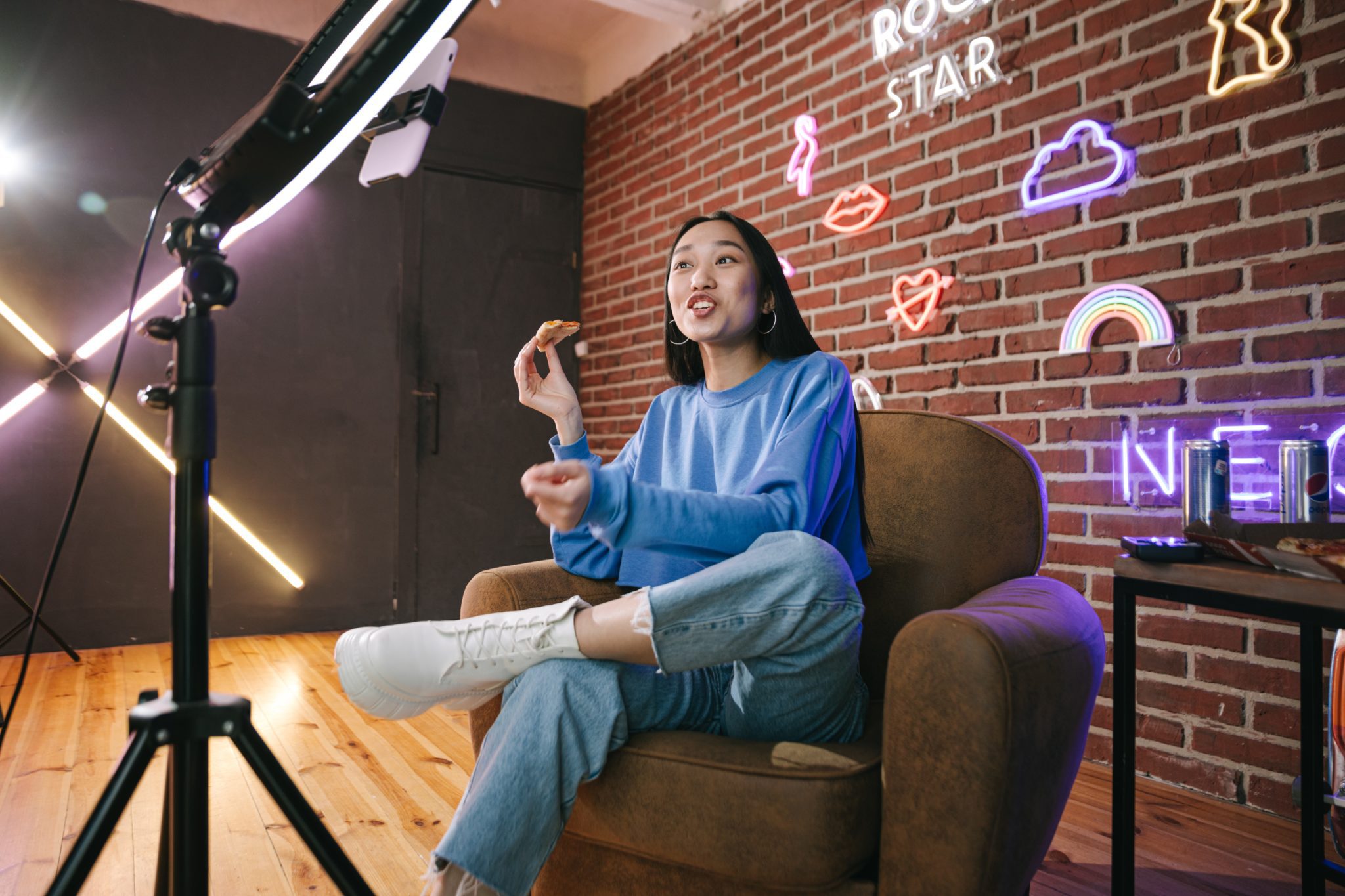 Photograph sources via Pexels
First, it's mandatory for influencers to have a decent presence on Twitter, Instagram, Facebook, and YouTube in order to qualify. Secondly, to get qualified, they are required to meet certain criteria:
Should have a decent following

Should have a good engagement rate

Content published should be of a high standard

Lastly, Amazon will want to make sure that it's a two-way street – they'd want to benefit from you as well, which is why they'll make sure that your profile is relevant.
Influencers can promote products on their storefront through their social media channels and drive massive traffic. And for every qualifying purchase, they'll get some kind of commission.
Some of the most popular Amazon influencer storefront examples include:
Niche:

Home Décor, Cleaning & Lifestyle

Niche:

Tech, Gaming & Geekchic Fashion

Niche:

Education, Lifestyle, Fashion & Beauty

Niche:

Military & Fitness Coaching

Niche:

Fashion & Beauty, Photography & Technology
Click through their names to get a taste of their Amazon storefronts.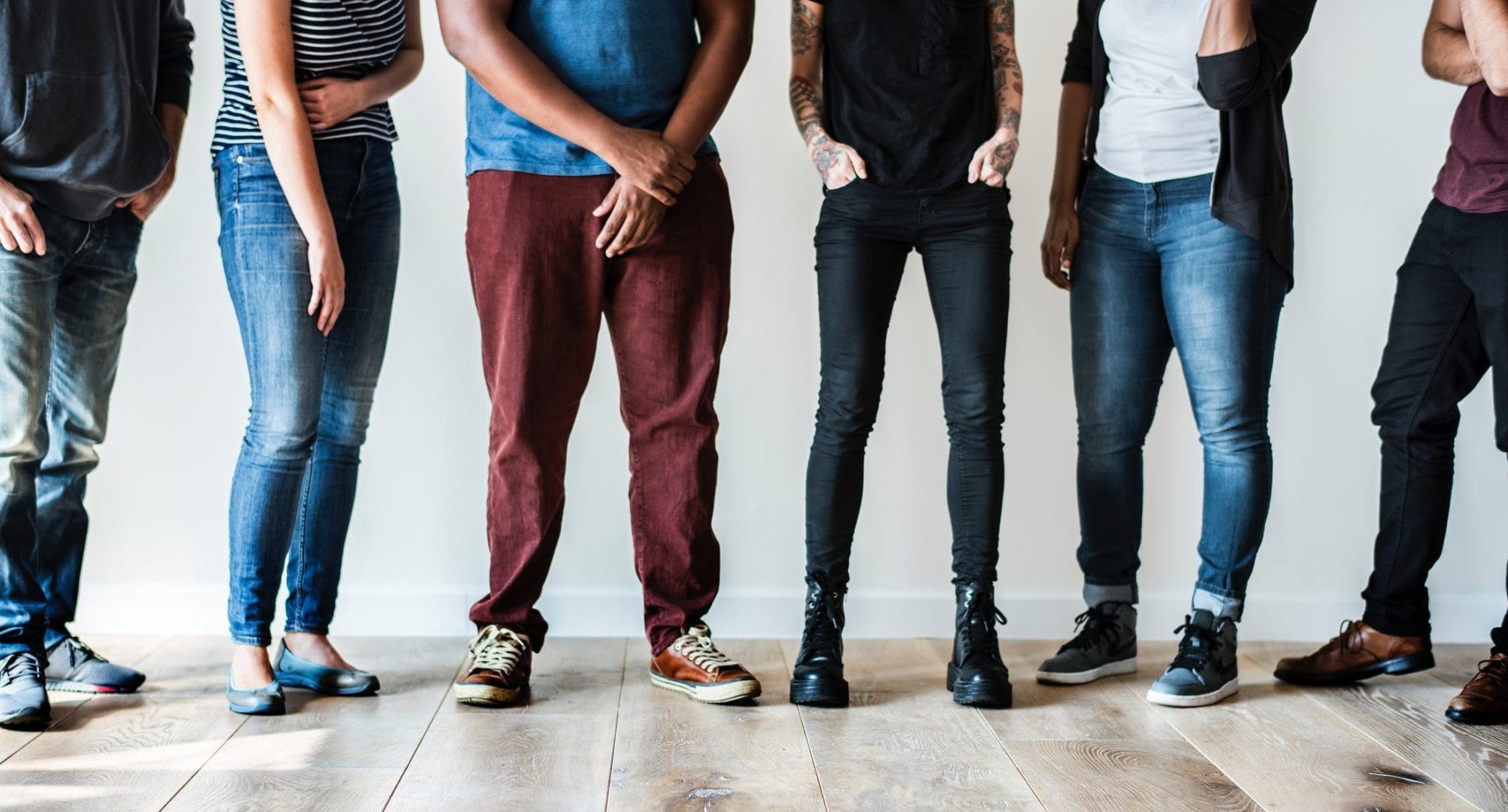 The Amazon Influencer Marketing Program now accepts all forms of Influencers
Photograph of Influencers via Pexels
How Does Amazon Influencer Program Work?
As mentioned before, Amazon influencers can easily apply to the Amazon Influencer program. And to get qualified, there's a certain criteria they need to meet. 
But, upon getting qualified, they can add products being sold on Amazon to their storefronts, and for every successful purchase, they'll receive some kind of commission fee. And they can promote their storefront or products on their social media channels to drive traffic and achieve success with their influencer marketing journey. 
With Amazon Influencer Program, Amazon influencers can have their product recommendations under one roof. Also, influencers can easily categorize different kinds of products within their store for smooth navigation like this: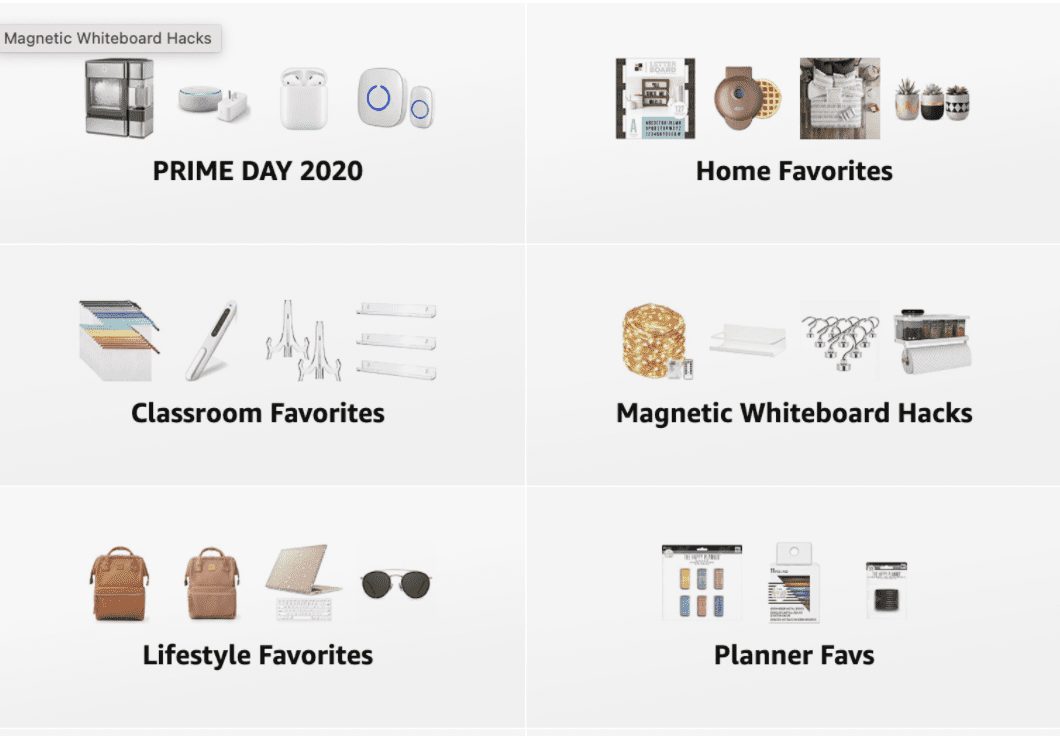 And upon clicking on a category, their followers can have a look at the products they are recommending: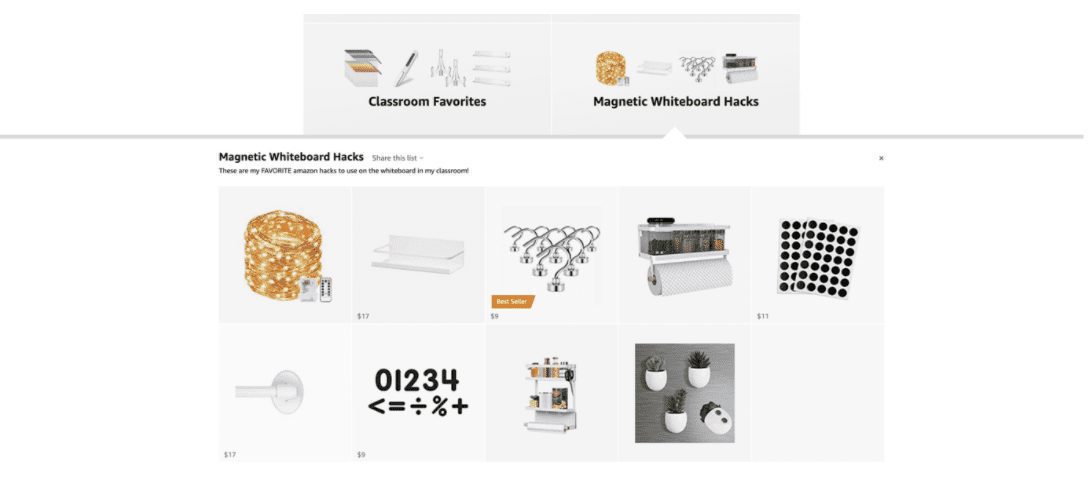 As simple as that!
As an Amazon store owner, if you're wondering how to find the right Amazon influencer fit for your store, say no more. 
Next, we'll understand how you can find the right set of Amazon influencers to skyrocket your sales and profit margins.
How To Find The Right Amazon Influencer Fit For Your Amazon Store?
We've witnessed hundreds or thousands of Amazon store owners reaching out to Amazon influencers on a regular basis. And the thing is – finding the right influencer isn't just enough. 
Always remember – it's a two-way street. While Amazon influencers would love nothing more than adding more and more products to their storefront, they'd prefer promoting products that people are most likely to purchase – ones that are in demand. 
At the same time, you need to engage them and make them believe in your brand. This will not only help you build a long-lasting relationship with the influencers but will also motivate them to skyrocket your sales. 
Let's look at how you can find the right Amazon influencer fit for your online store and engage them to drive the best possible results:
Understand Who Your Target Audience is

Look for Creators on Amazon

Search Hashtags

Use a Premier Influencer Tool Like Stack Influence
Understand Who Your Target Audience Is
Imagine a beauty influencer promoting a brand's tech products on her social media channels. We've seen brands wasting thousands of dollars on influencers that don't even belong to their niche. 
Believe me – that's a dumb move.
If you're selling beauty products, it's highly advisable to build a long-lasting relationship with beauty influencers. If you sell tech products, collaborate with tech influencers. 
So, before we dive into the deep waters, it's critical to understand who your target audience is. Ask yourself:
What kind of products are you selling? 

Who's highly likely to purchase them from your store? 

Which niche do you belong to? 

What does my ideal customer look like?
These kinds of questions will help you understand who your target audience is. And once you have the answers, you can explore social media channels to gain insights into the influencers they are following and engaging with the most. 
And when you do that, you'll get a clear idea of the kind of influencers you should be collaborating with. Now, you can just make your way to Google or explore creators on Amazon to find the right Amazon influencer fit for your online store.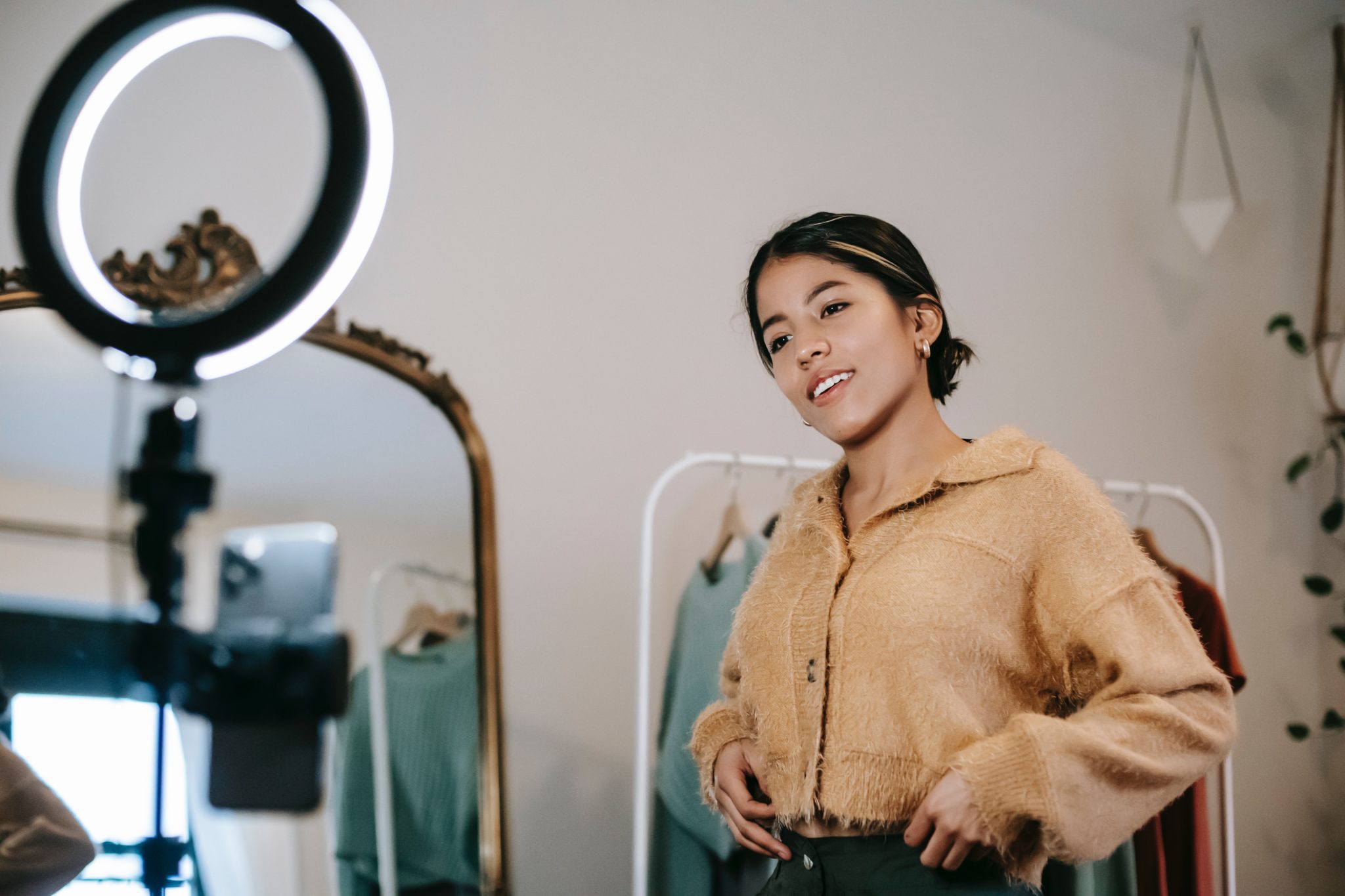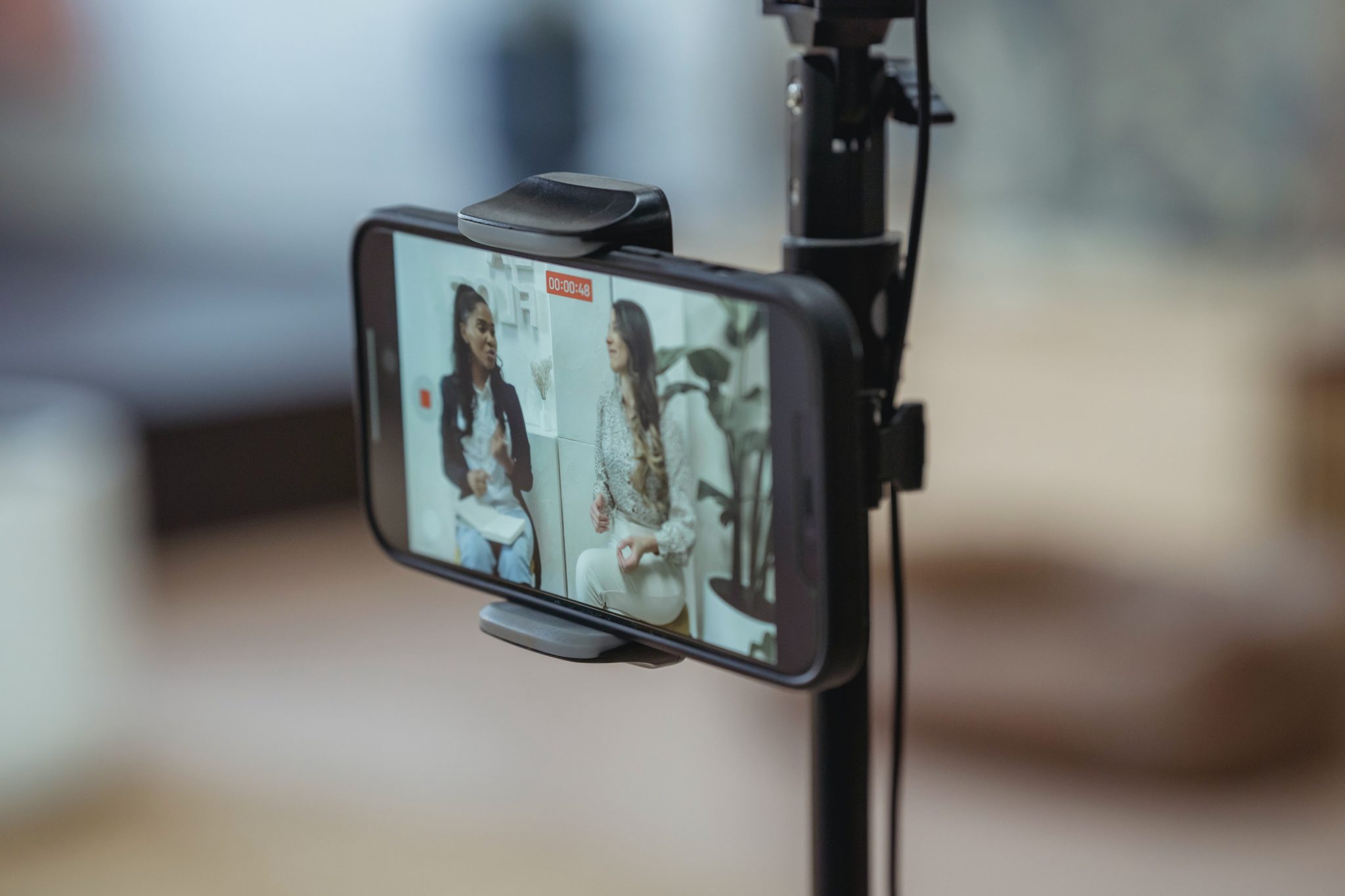 Photograph sources via Pexels
Look For Creators On Amazon
Now, you'll have a clear idea of the kind of influencers you should be collaborating with. The next step is to exploring the #FoundItOnAmazonp page to find the right fit.
Once you land on the page, you'll be able to click through different influencers' profiles.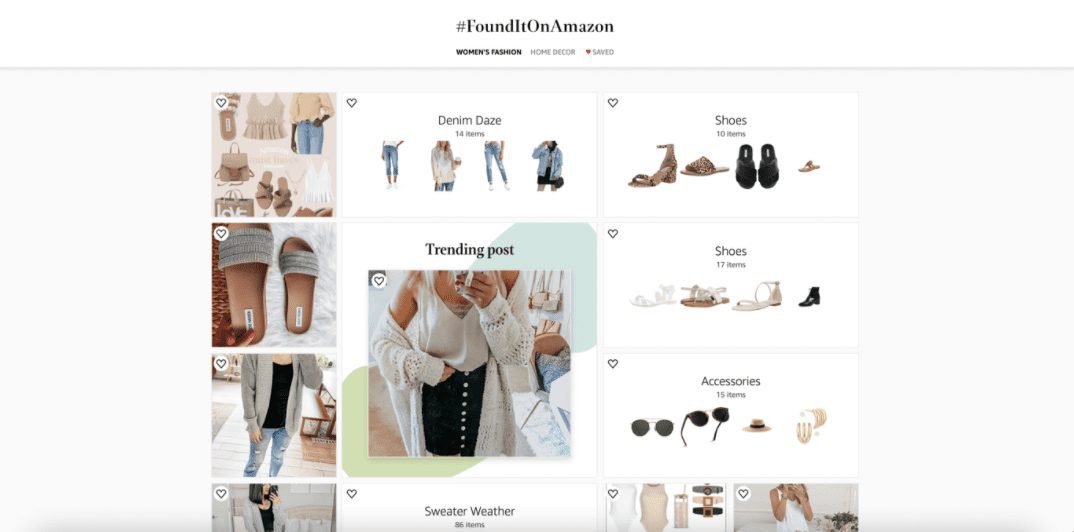 Some influencers will also have their social media accounts listed on their profile. Or you can just Google their name to understand whether they are the right fit for you. 
Once you land on their social media profiles, look at:
Number of followers

Engagement

Who their followers are

Which niche do they belong to?

The type of content they post

Content quality
 Also, you can just hop onto www.amazon.com and type in "Amazon Lives" to look at the creators live streaming on Amazon.
We did the same and found Carla Stevenne – a gorgeous Amazon beauty influencer.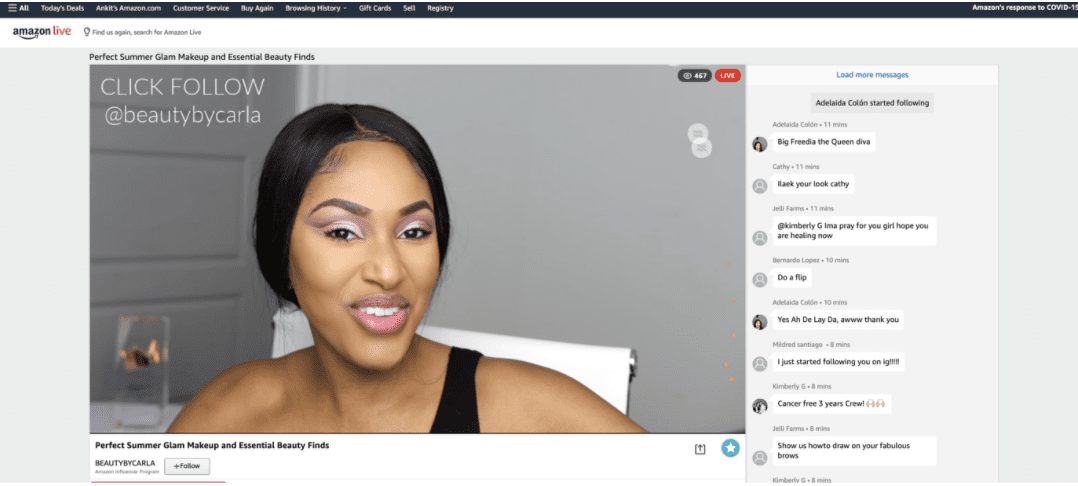 And upon scrolling down, you can find other creators live streaming on Amazon and also featured creators, TV personalities, and more. Also, you can explore the Amazon Lives page to find the right Amazon influencer fit for your niche.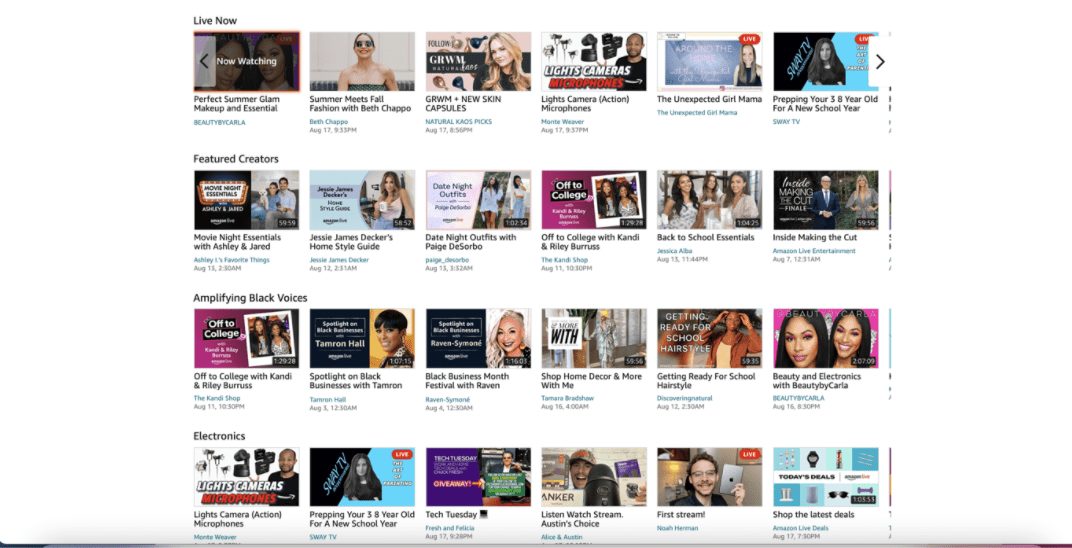 Some of these Amazon influencers may be celebrity-level and may even end up exhausting your budget. We believe that collaborating with micro-influencers delivers the highest engagement rate, which is why we are heavily focused on helping Amazon store owners drive more sales by connecting them with the right Amazon influencers.
"I think influencer marketing is going to have a golden era of a decade. And I believe we are at the very beginning of it, and I'm nothing but extremely fond of it."
– Gary Vaynerchuck
We believe that hashtags are one of mankind's greatest creations to date. 
Literally, you can look for any possible piece of information by typing in the relevant hashtags on social media platforms.
From exploring new food dishes to finding the right Amazon influencers, you can use relevant hashtags for just about anything.
Hashtags are the foundation of social media communities and conversations. With hashtags, you can connect with people with similar interests. 
And you can find the right Amazon influencer fit for your store by using the hashtags:
#amazoninfluencer, #amazonfinds, #amazonstyle, #amazonlives, #amazoninfluencerprogram, #amazonambassador.
Also, you can create your own branded hashtags – which your influencers can use to widen your brand's reach.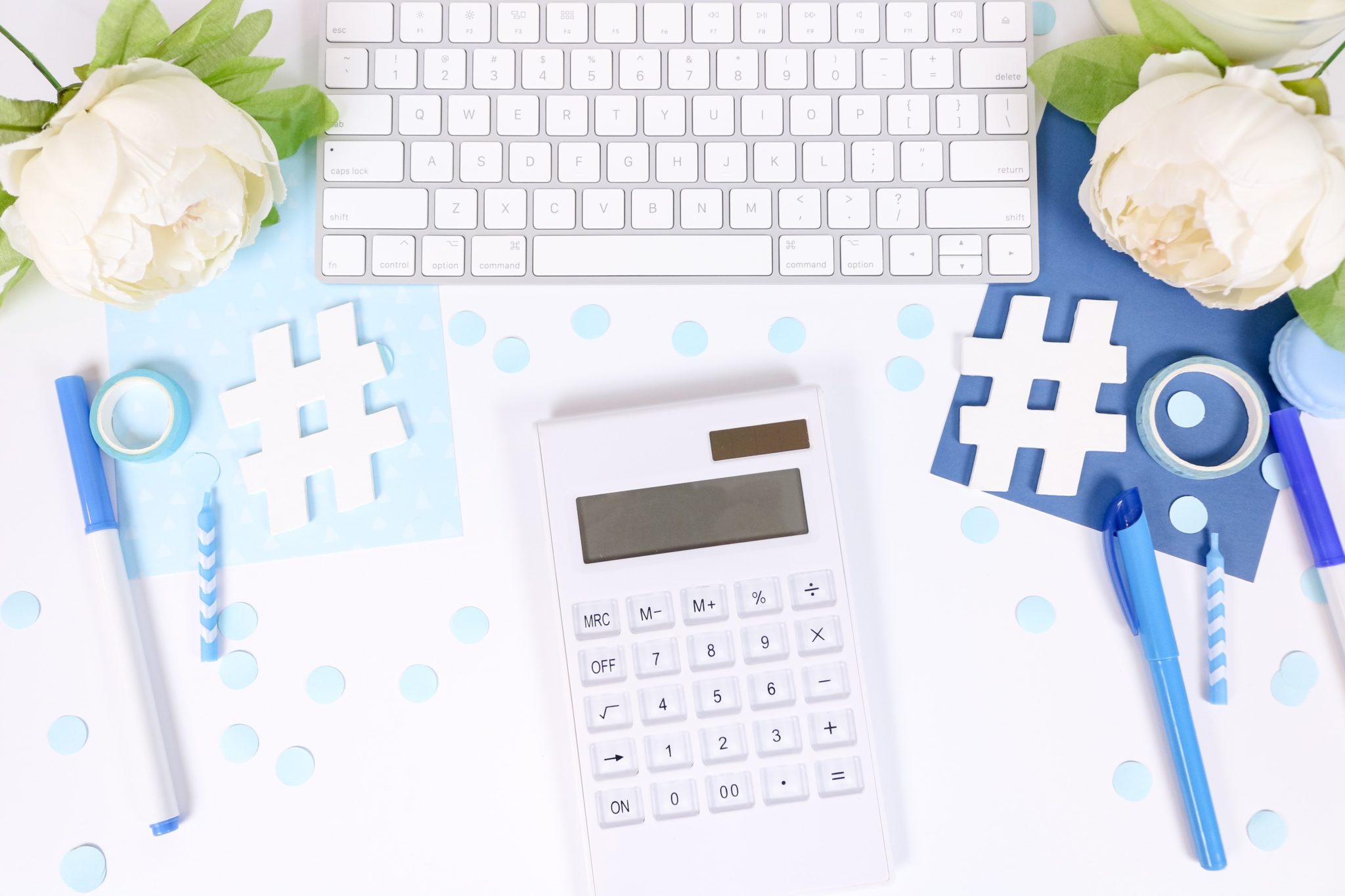 Hashtags are the foundation of social media communities and conversations.
Photograph of Influencers via Pexels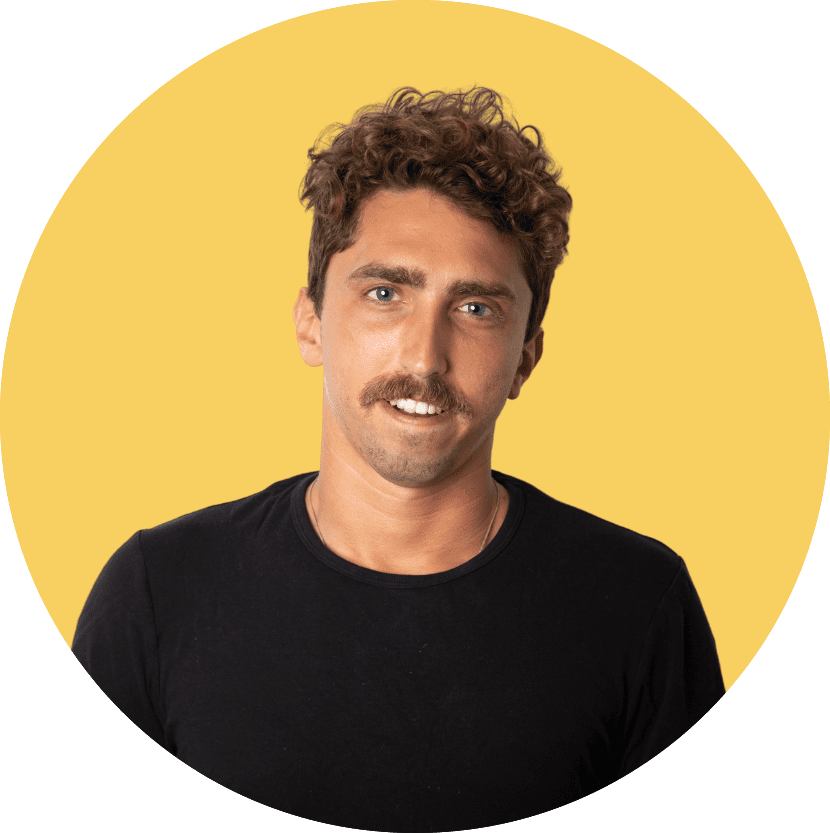 Tap Into The Power Of Stack Influence
We are here to make things so much easier for you. At Stack Influence, we believe in helping Amazon store owners skyrocket their sales and grow their online store by collaborating with the right micro-influencers. Our mission is to facilitate growth in marketplace rankings, asset development, and increasing brand trust.
We allow eCommerce store owners to tap into our rich micro-influencer database, allowing them to reach out to the right set of audience efficiently.
Also, you can tap into the power of our platform to raise brand awareness, boost online traffic, build long-lasting relationships, and establish a strong online presence. We will help you find the right Amazon micro-influencer fit and build a highly converting influencer marketing campaign. 
Click HERE to enter the realm of Stack Influence. 
Whether you want to launch or scale your Amazon store, you can take your business to heights by collaborating with the right micro-influencers and setting influencer marketing campaigns the smart way.
And we'd love nothing more than helping you align your campaigns with your business goals.
Want new articles before they get published?
Subscribe to our Awesome Newsletter.
Want new articles before they get published? Subscribe to our Awesome Newsletter.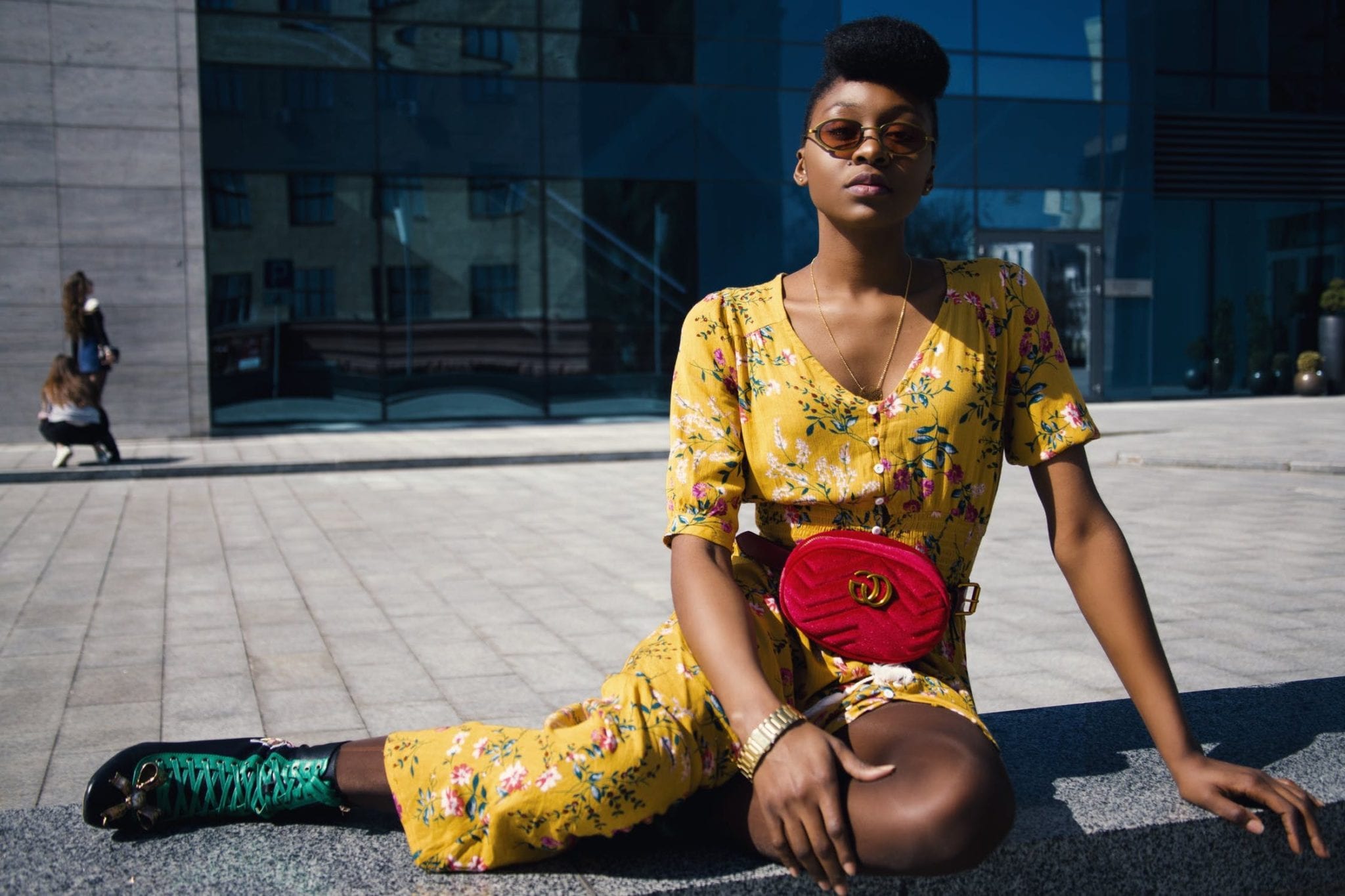 stack up your influence
in exchange for products
our headquarters
111 NE 1st St, Miami, FL 33132
stack up your influence
in exchange for products
our headquarters
111 NE 1st St, 8th Floor 
Miami, FL 33132